Terms
This is the only catalog available. There is no mail out version.
A deposit of 20% is required to book an order. Only the actual cost of the birds is included in the deposit, not shipping. Deposits are non-refundable. I do not accept orders over the phone. I will however, be happy to answer any questions over the phone which may not be covered in this price list. I generally do not return long distance calls to discuss possible future orders.
Please specify the quality of the stock wanted at the time the order is placed by indicating the price of the birds you wish to order. Prices are set according to the quality of the stock.* Some varieties are offered in both breeding and exhibition grades and some are only offered in exhibition grade. Please include a phone number and your full mailing address when placing an order. Should I find it necessary to refuse an order due to lack of available stock, I will return your deposit promptly. If stock of a different quality is acceptable should your first choice not be available, please state that in your order. I try not to accept more orders in a given year than I can fill that year but for a variety of reasons, I sometimes find that I cannot fill all orders which I accept. Should you wish to carry an order over to the following year, I will guarantee to give the order priority treatment and will guarantee the price regardless of any subsequent price increases. I will deliver stock at no charge to shows which I attend provided that arrangements are made well in advance and provided that the stock is paid for in full. Notice to Canadian customers: I no longer ship into Canada or to other places outside the U.S. Birds can be picked up in the States at any show which I attend with advance arrangements. Payments must be in U.S. funds. When paying with a personal check, please allow 10 days for the check to clear prior to the shipping date.
NOTE: Shipments to Arizona and other hot areas will not be made between May and mid-October. In winter, the Postal Service enforces a strict minimum temperature of 45 degrees at both ends.
* Breeder quality birds are from exhibition quality parents but are not as strong in the fine points. They may be larger, etc. My breeder quality has been good enough to win at local fairs for many of my customers.
Shipping
Very honestly, I prefer not to ship. I do so only as a service to my distant customers. I will ship by Express Mail. Up to four chickens or four ducks can be sent in one Express Mail container. Please note that due to their temperment, Mandarins do not handle shipment as well as do the other types of birds I sell.
For1-2 birds I charge $150 I charge a flat rate of $170.00 per container to ship by Express Mail for 3 to four birds which includes the special reusable container required by the Postal Service and shipping costs. Express Mail will be delivered seven days a week (if the post office is open on Sun.) and will be delivered directly to your home. You can also make advance arrangements to pick up the shipment at the P.O. even when they are not open to the public, something I recommend. Express Mail is not available everywhere so please check with your local post office before you order. Express Mail shipments are either next day or second day delivery. Please note before ordering: I offer the shipping option as a courtesy to customers who cannot or will not come here to pick up their birds or meet me at a show. I will not accept responsibility for something over which I have no control. I will ship Express Mail at the buyer's risk. I have sent and received many dozens of shipments (actually over 160 at last count) and there has been but three birds lost but you must be aware that the buyer bears the risk. No orders less than $100.00 in value ( not including shipping charges) will be shipped.
Please remember to confirm your order when you send your deposit and include a phone number for the shipment. Unless you ask me to require a signature, a signature will not be required to deliver your shipment.

Specific shipping times cannot be guaranteed. Orders are accepted with the understanding that I will determine when orders are filled. Shipment and/or delivery of stock usually begins in Oct. but due to a number of factors, I will not guarantee that orders will be filled before Dec.1st. Normally, the earliest orders placed are filled first.
It is best to call your local post office to verify that Express Mail shipments of live birds are being accepted.
The balance due on shipments is due within one week after you are notified of the tentative shipping date. Orders not paid in full will not be shipped. I normally ship on Tuesday.
Except for Mandarins, prices are usually quoted for single birds of either sex. That means it is possible to order single birds of either sex, pairs or trios. Please be aware, however, that when birds of one sex are in short supply, orders for pairs will be given priority over orders for single birds or trios. also be aware that the cost of shipping even a single bird will be high.
I have been a member of the NPIP program since 1997. My approval number is 558.
Deposits can be sent to Lou Horton, 1N735 Ingalton Ave, West Chicago, IL 60185 Personal checks are fine for both deposits and payment of balances.

4-H Discount
I will give a 10% discount (not including shipping costs) for orders from 4-H members ( or other recognized youth groups such as FFA ) who are purchasing the birds for a poultry project. In order to qualify for the discount, you need to send me verification from the 4-H leader that the birds are being purchased for the child's project. This discount is offered to youths age sixteen and under. The letter of verification should accompany the order. I do reserve the right to require additional proof that the birds are being purchased for the stated purpose.
Prices do not include shipping via Express Mail which is a flat $80 for up to four birds. If a breed or variety is not listed here, nothing is for sale at present in that breed or variety.
.What is available right now
Price: $0.00
Sold out for 2022 in everything but Mandarin ducks.
East Indies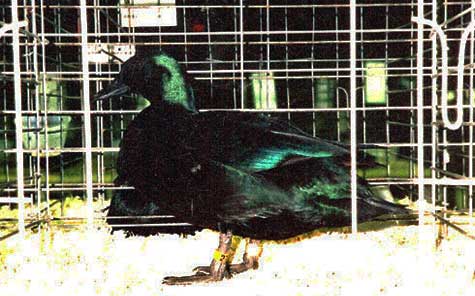 My Emerald Strain of East Indies has compiled the most impressive show record of any strain in North America in terms of major wins in recent years. I became the first A.B.A. Master Breeder of East Indies in 1994. My East Indies usually hold their own with the best Calls when it comes to winning the major bantam duck awards as is indicated by the fact that they were selected as Reserve Champion Bantam Duck at the 1989, 1990, and 1992 and 1995 A.B.A. Nationals in competition with the best Calls in the world and Champion Duck at the 1994 A.P.A. National. In 2001, one of my East Indie males was named Show Champion over 3,300 birds at the APA National in Lincoln, Nebraska. I had Best East Indie at the A.B.A. National for 8 consecutive years. At the 1997 ABA National I had Champion Bantam Duck and Reserve Champion Bantam on a 1997 hatch female with over 2,200 bantams competing. In 2022 and 2023, My Indies won a total of 3 show championships and 2 show reserve championships. That is the most remarkable run of wins I have had in over 50 years of exhibiting. The trademarks of this strain are small size, correct type, and brilliant emerald green color. They have earned over seventy seven starred wins since 1979; an accomplishment unmatched by any other breeder or strains of East Indies. In 1998 Combined Nationals in Columbus Ohio, I had all four firsts, Best and Reserve and best display in a class of 118 east Indies which is the largest class of Indies ever as far as I know. In 2006, an Acorn Hollow East Indie young female was selected Best Indie in a class of 55 with six other exhibitors competing. At the Combined Nationals in 2011, I had Best and Reserve East Indie in a class of 66 with fourteen exhibitors competing. The winning bird went on to become Res. Champion Bantam Duck in a class of 749 Bantam Ducks.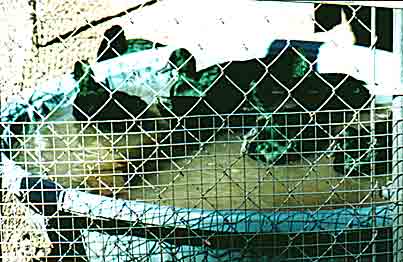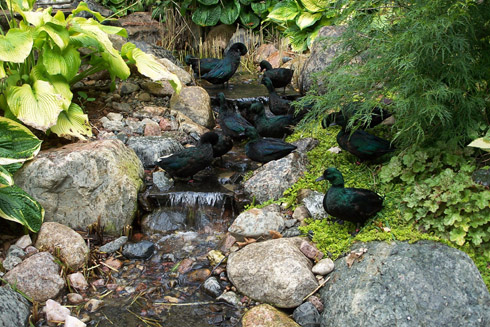 Acorn Hollow Indies enjoying a waterfall.
Sold out for 2022 in East Indies
Exhibition quality: $100 per bird
Breeder quality: $50 per bird
Pairs or single males may be ordered. Single females or trios may not be available.
Mandarins
Mandarins are generally priced as pairs. White Mandarins are priced significantly higher than normal colored ones because they are rarer and are somewhat harder to reproduce. The parents of both colors here at Acorn Hollow are selected for high quality coloration and for characteristics like well-developed manes, crests, and sail feathers.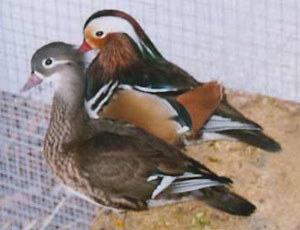 Birds sold are normally from the current year's hatch unless otherwise stated. Such birds usually will reproduce the following spring but perhaps 20% of them will wait until their second year to breed. Males shipped may be only partially colored up. Young white males in particular are slower to come into their nuptial plumage than are adult males. Usually, all available birds are sold by early fall.
White and normal colored Mandarins will cross. It is recommended that if both colors are kept, that the pairs be kept separately at least until the pairs are bonded. Ideally, the two colors will not be kept together during the breeding season. Given enough space, multiple pairs of Mandarins can be easily kept in one pen during the breeding season. A 100 square foot enclosure will usually house two pairs comfortably. Three nest boxes should be supplied for every two pairs of birds. That will increase the likelihood that both pairs will find one they like.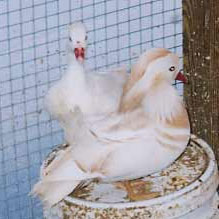 Unless otherwise requested, Mandarins will be shipped full winged which means that they are fully capable of flight. Wing clipped birds incapable of flight until their flight feathers are replaced the following year can also be provided but must be specified when the birds are ordered. Shipping is available for Mandarins but I do not recommend it and it is done at the buyer's risk. A maximum of four birds can be shipped in one box for a flat rate cost of $125.
Prices:
Normal colored pairs- $125
Single birds (either sex) $75 when available.
White Pairs- $225 These are usuallyin very limited supply.
Single White birds (either sex) are $125 when available
Wyandotte Bantams
Prices:
White Wyandotte Bantams
White Wyandotte bantams sold out for 2022
Show quality- $50 per bird
Breeder quality- $25 per bird
In 2006, I again took up breeding the beautiful White Wyandotte bantam. I obtained a wonderful start from a good friend who raises a top line of them and in my very first show with them, they greatly exceeded my expectations when a 2007 pullet went all the way to Champion Bantam in a show with well over 500 bantams competing. This is primarily a female bred line but a surprising number of males acquit themselves well at shows. The line is especially strong in tail set and in overall type. They are also wonderful layers for an exhibition strain.
Black Wyandotte Bantams-.
Show Quality- $50 per bird
Breeder Quality- $25 per bird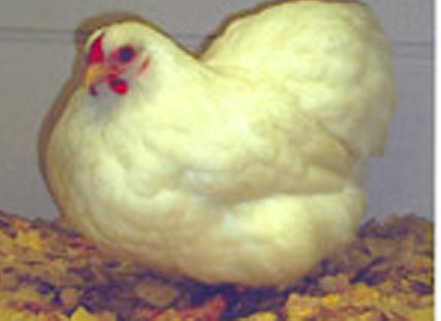 This 08 hatch pullet was chosen Best Wyandotte bantam and Champion Rose Comb Clean Leg at the 2008 Central Indiana Show.
Below is a 2008 hatched cockerel .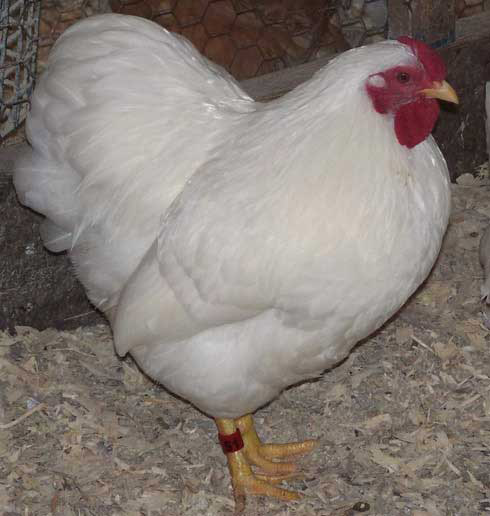 This 2010 hatch Acorn Hollow pullet was Best of Breed and Champion in the Rose Comb Clean Legged class at the Indiana Poultry Breeders Show with 185 birds competing.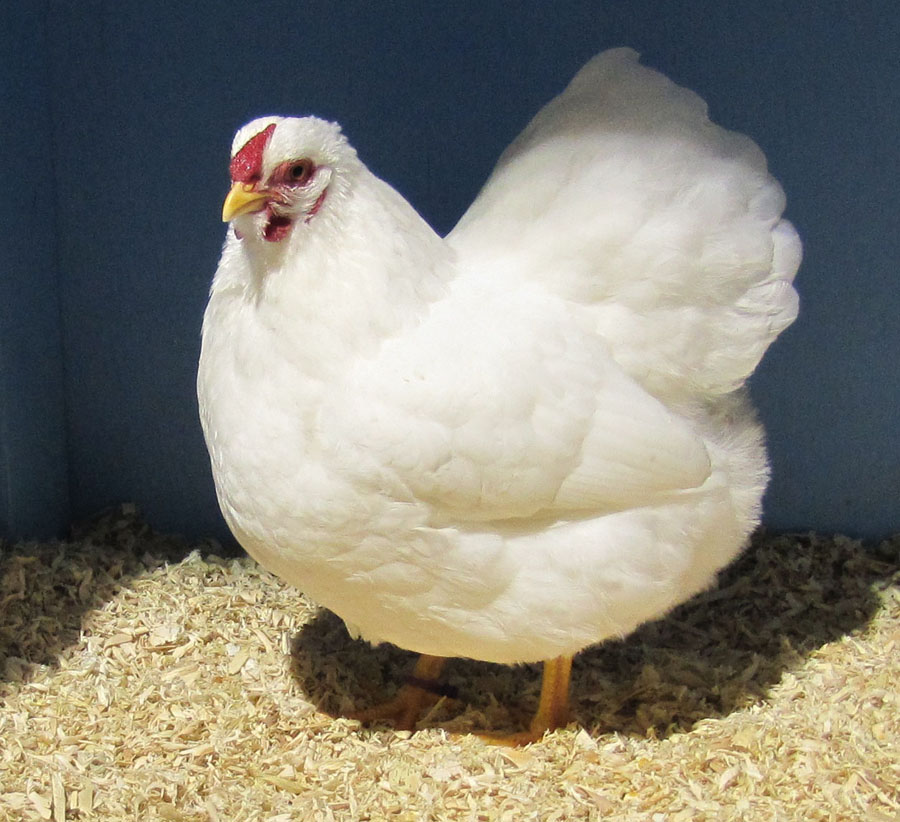 Partridge Wyandotte bantams
Show Quality birds at $50 each
Breeder Qualitynbirds at $25 each.
Calls
I currently raise four color varieties of Calls: Gray, White, Blue Fawn, and Pastel. My breeding flocks of all four varieties are relatively small so available stock will be in limited supply.
Prices are as follows: breeding quality $50 per bird, show quality $100 per bird. I do require a 20% deposit to book orders. As with my Indies, birds of both quality levels come from the same stock. I have no matings to which my customers do not have access.